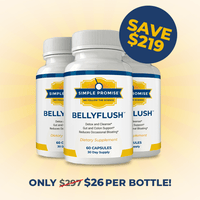 Sale
Sale
Product Info
Ingredients
Reviews
BellyFlush™ is a breakthrough body detox and constipation relief supplement packed with some of nature's most powerful ingredients.
This revolutionary formula promotes an overall healthy lifestyle by:
Detoxing and cleansing*

Supporting gut and colon health*

Easing occasional bloating*
Every ingredient in BellyFlush™ is natural, safe, and side-effect-free.
BellyFlush™ is produced in the USA, and follows Current Good Manufacturing Practices (CGMP), ensuring there is no adulteration of the ingredients.
Suggested Use: As a dietary supplement, adults take two (2) capsules once per day preferably before bed or as recommended by a healthcare provider.
WARNINGS: Do not exceed recommended serving size. As with any dietary supplement, you should consult your healthcare provider before use, especially if pregnant, nursing, have a medical condition, are taking medications, or have known adverse reactions or allergies.
KEEP OUT OF REACH OF CHILDREN.
NOT FOR USE BY INDIVIDUALS UNDER THE AGE OF 18 YEARS.
DO NOT EXPOSE TO EXCESSIVE HEAT OR MOISTURE.
DO NOT USE IF SAFETY SEAL IS DAMAGED OR MISSING.
Each serving of BellyFlush™ contains a combination of powerful nutrients designed to support healthy, consistent digestion. Let's take a look at the three powerful blends inside BellyFlush™…
Body Cleanse Blend
1. Cascara Sagrada Bark
Cascara sagrada is a native North American shrub that has powerful laxative effects. People use cascara sagrada for constipation, emptying the colon before a colonoscopy, and other health conditions.1
2. Cape Aloe Leaf
Aloe has been used as a folk medicine throughout history. In modern times, cape aloe is used often because of its ability to soften the stool. One study showed positive results for people with IBS who experienced constipation, pain, and flatulence.2
3. Senna Leaf Extract
Senna leaf extract is most commonly used as a tea to treat occasional constipation. In fact, studies have found that the active compounds in senna have a strong laxative effect.3
4. Triphala Fruit
Triphala is a mixture of the dried fruits of the following three plants native to India, namely amalaki (amla), haritaki (harad) and bibhitaki (baheda), all of which are known to help relieve constipation.4
Digestion Support Blend
1. Fennel Seed
Fennel seed is a flavorful culinary herb and medicinal plant. According to herbalists, fennel seed is an effective digestion aid. It can help the smooth muscles of the gastrointestinal system relax and reduce gas, bloating, and stomach cramps.5
2. Bentonite
People have been using calcium bentonite clay for centuries to detoxify the body. Plus, studies have also shown that bentonite clay may help people who have irritable bowel syndrome and constipation.6
Detox & Gut Health Blend
1. Marshmallow Root
Marshmallow root is a perennial herb used for thousands of years to treat digestive conditions, including constipation, heartburn, and intestinal colic.7
2. Licorice Root Extract
Licorice root is a native plant to Western Asia and Southern Europe, and it is considered as one of the world's oldest herbal remedies. Studies show that licorice root contains properties to treat digestive ailments like heartburn and acid reflux.8
3. Slippery Elm Bark
Slippery elm bark is capable of soothing the lining of the stomach and intestines and reducing irritation. Studies have shown that slippery elm bark can help treat the symptoms of digestive issues such as Crohn's disease, ulcerative colitis, and irritable bowel syndrome (IBS).9
4. Cayenne Pepper Fruit
This hot and spicy chili pepper is often used in cooking, but is also known for its abilities for digestive health support. The capsaicin inside cayenne helps increase stomach acid production and stimulates peristalsis. These actions help break down food more quickly, improving digestion and nutrient absorption. It can also help relieve constipation by stimulating intestinal movement.10
5. Milk Thistle Seed
Also known as Silymarin, this is a flowering herb native to mediterranean countries. This plant is known for its abilities to help with stomach issues like gas, bloating and indigestion.11
SUPPLEMENT FACTS
Serving Size: 2 Capsules
Servings Per Container: 30
Body Cleanse Blend:
Cascara Sagrada Bark (Rhamnus purshiana), Cape Aloe Leaf (Aloe ferox), Senna Leaf Extract (Cassia angustifolia) (Standardized to 20% sennosides), Triphala Fruit (Terminalia belliricia)
590mg

†

Digestion Support Blend:
Fennel Seed (Foeniculum vulgare), Bentonite
230mg

†

Detox & Gut Health Blend:
Marshmallow Root (Althaea officinalis), Licorice Root Extract (Glycyrrhiza glabra) (Standardized to 6% glycyrrhizin acid), Slippery Elm Bark (Ulmus fulva), Cayenne Pepper Fruit (40,000 HU), Milk Thistle Seed (Silybum marianum)
300mg

†

† Daily Value not established

Other ingredients: Hypromellose (Vegetable Capsule), Dicalcium Phosphate, Magnesium Stearate (Vegetable), Silica.
References:
1. https://medlineplus.gov/druginfo/natural/773.html#:~:text=Cascara%20sagrada%20(Frangula%20purshiana)%20is,and%20have%20a%20laxative%20effect.




2. https://www.ncbi.nlm.nih.gov/pmc/articles/PMC3872617/

3. https://www.wjgnet.com/1007-9327/full/v15/i14/1759.htm?msclkid=ef4dec2fc69611ecb2b9d5fa5a68cbe4

4. https://www.ncbi.nlm.nih.gov/pmc/articles/PMC3631759/

5. http://www.herbaleducation.net/fennel

6. https://www.ncbi.nlm.nih.gov/pmc/articles/PMC5632318/

7. http://dx.doi.org/10.3109/13880209.2010.516754

8. https://www.ncbi.nlm.nih.gov/pmc/articles/PMC6836258/

9. http://onlinelibrary.wiley.com/doi/10.1046/j.1365-2036.2002.01157.x/full

10. https://www.ncbi.nlm.nih.gov/pubmed/26756096

11. https://www.ncbi.nlm.nih.gov/pmc/articles/PMC3586829/